Gelatin Benefits for Arthritis Pain Relief - Kellie Olver
How amazing is it that delicious jello you used to love in your childhood (and still love today as an adult) contains a secret weapon that actually can relieve your arthritis and joint pain?
Yes, that jiggly jell-o isn't just a Thanksgiving or Christmas dinner side salad anymore!
Jell-O's main ingredient contains gelatin, an UBER superfood which is also used in many pharmaceutical formulations and supplements.
Health benefits of gelatin are real and you can reap their benefits while drinking your Triple K , an all natural instant beverage blend with 11g of collagen protein derived from gelatin, or cherishing your SUGAR FREE marshmallow treats!
Check out the amazing recipe below. I have made them several time and these marshmallows are so YUMMIE. Many thanks to Desserts With Benefits for sharing this wonderful recipe with all of us!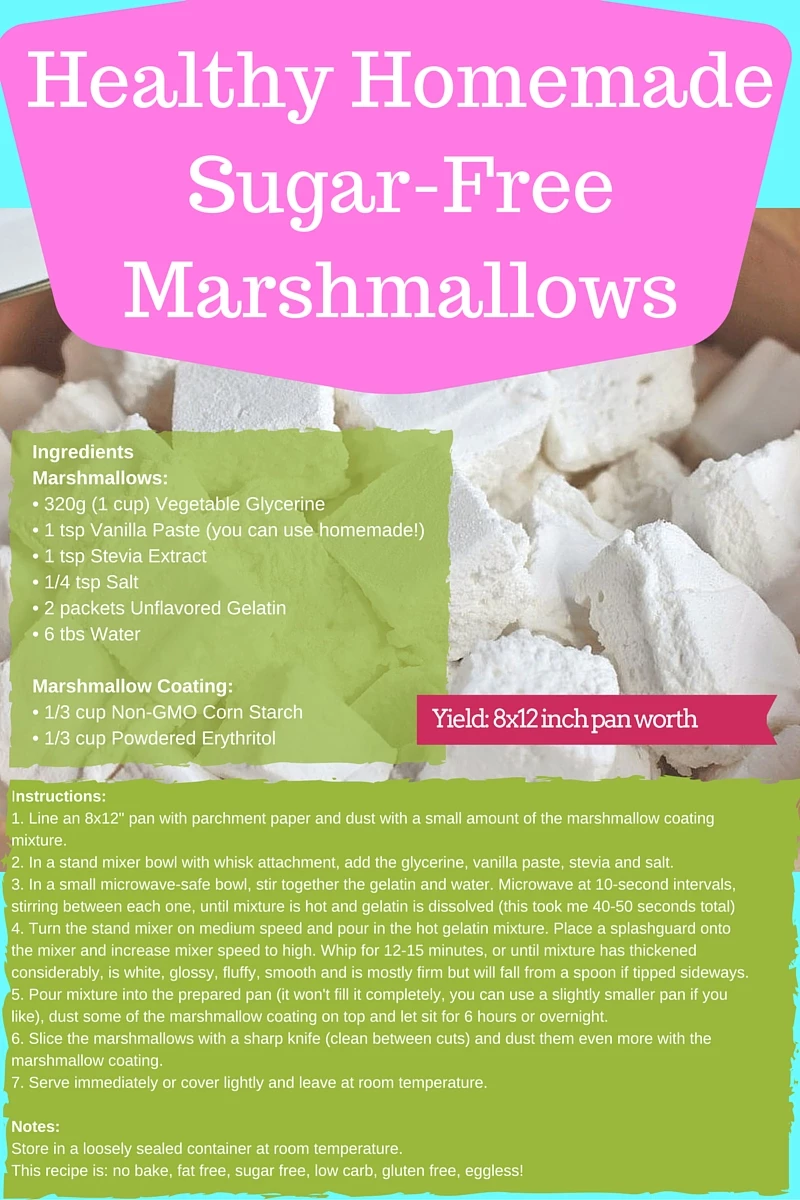 So, if you're fed up with tolerating osteoporosis, arthritic knee or excruciating pain in joints, get ready for a solution.
This article will guide you about Gelatin Benefits for Arthritis Pain Relief and its other considerable health perks.
What is gelatin?
Gelatin is an insoluble, tough protein obtained from animal sources.
It is flavorless, odorless and translucent in nature. It is a hydrolyzed form of collagen- a protein that constitutes the major protein content of our body, particularly skin, joints and bones.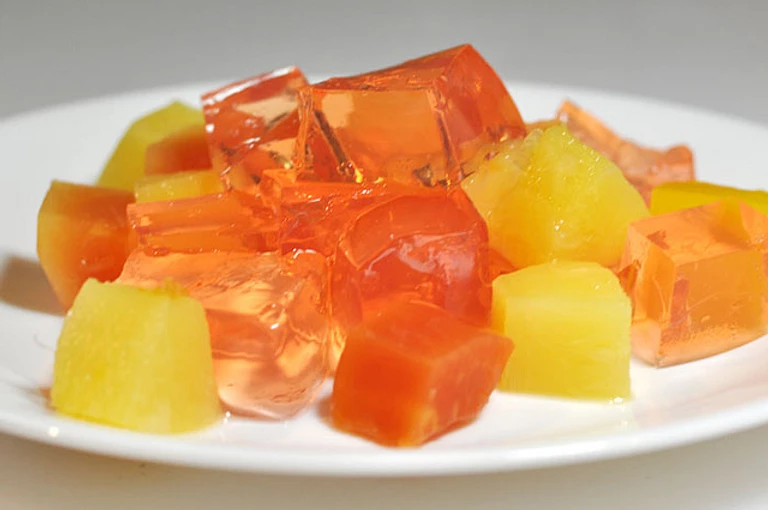 Gelatin dissolves in hot water and sets into a gel-like consistency after cooling.
It is edible and acts like a magic pill for you and your joints.
How is Gelatin produced?
It is obtained by heating animal connective tissues, bones and ligaments. The collagen (a type of protein) present in body of domesticated animals, is hydrolyzed by heating. Resultantly, it converts into gelatin, which contains proteins and amino acids essential for good health of joints and a plethora of other health benefits.
In fact gelatin is also one of the best weight loss foods out there today!
How does Gelatin help with arthritis pain relief?
Gelatin benefits for arthritis pain relief cannot be overlooked. It alleviates hip arthritis, improves hip joint pain and relieves arthritic knee.
Arthritis is an inflammatory disease of the joints.
Gelatin reduces inflammation, thus proving magically effective in arthritis pain relief.
Due to multiple reasons, joints go through wear and tear and the cartilage- a protective connective tissue- of joints degenerates. These degenerative changes make bones, of joints, rub against each other. Moreover, the disease progresses to inflammation, swelling, and severe pain. Pain can be extremely crippling and affects the quality of your life. It debilitates the knee and hip joint the most.
Forget playing with your kids or even do household chores if you've arthritis.
However, gelatin aids arthritic pain relief because it has collagen. Our bones and connective tissues are made up of collagen and providing them with gelatin, a cooked collagen, can increase their health.
Many research studies have validated the use of collagen type II- an important structural protein in cartilage- as an effective therapy for arthritis.
Gelatin for joint pain is just as effective as collagen hydrolysate. They have the same chemical composition and mechanism of action in treating osteoarthritis and other joint disorders.

According to a research, evidence for effectiveness of gelatin for arthritis is growing rapidly. It also reduces swelling of joints due to rheumatoid arthritis. Moreover, gelatin is used because it contains many amino acids necessary for cartilage formation. Some of the most important are:
• Proline:
Proline is an important amino acid for cartilage formation. It increases the synthesis of collagen, which takes part in maintaining health of joints. Gelatin contains a surfeit amount of proline and hydroxyproline, thus contributes in reducing the effects of arthritis. It alleviates inflammation and pain of joints.
Proline also builds up cartilage and trims down degenerative changes due to arthritis.
Hydroxyproline is an important part of synovial fluid- a liquid which lubricates your joints. Gelatin guarantees that your body has a rich amount of this building block, so that you're safe from the debilitating effects of arthritis
• Lysine:
Lysine is an essential amino acid, which our body cannot produce. So, you need to consume a diet with an adequate amount of lysine. Gelatin meets your lysine requirements because it contains a superfluous amount of this amino acids.
Lysine increases calcium absorption is body and proves helpful in osteoporosis (a disease of bones and joints). Lysine is a crucial building block of collagen; so its adequate amount increases collagen synthesis. It also stops collagen breakdown by blocking respective enzymes. Production of adequate collagen increases elasticity and flexibility of the joints, relieving arthritis.
Lysine is also know to support stress relief and create a calming effect.


• Glycine:
Glycine is smallest and simplest amino acid in your body, but when it comes to function, it is like a magical gadget. Research shows that glycine is involved in anti-inflammatory actions in the body. This quality of glycine makes it an important factor in treating arthritis. Gelatin contains large amount of glycine so it boosts its effectiveness as joint pain healer.
These above mentioned amino acids along with other constituents ensure gelatin as an effective therapy for any type of arthritis. Cartilage building speeds up and joints become healthy again.
What are Gelatin's Other Health Benefits?
Gelatin has an enormous significance in the medical field. It is used in many pharmaceutical formulations and also constitutes a considerable part of the cosmetics industry.
The reason behind its popularity as a super food is its high nutritional value. It is enriched with proteins and amino acids, most of which play a critical role in collagen developement, bone and joint support, muscle repair, ligaments and more. Any part of your body that needs proteins can benefit from it.
For example, gelatin strengthens your hair and improves their quality. It treats brittleness of bones and fingernails. Digestive health improves and sports-related injuries recover with a greater speed. Skin quality perks up tremendously with gelatin and this quality is used by cosmetics industries.
Gelatin encourages radiant skin and other beauty benefits including wrinkling and sagging of the skin by providing it with sufficient amino acids and proteins.
A sense of general well-being and light mood can also be achieved with its consumption.
It's like your perfect health packed up in your favorite ingredint that makes all your favorite jellies and candies!


Is Gelatin Safe to Use?
Gelatin is a natural product and comes from animal sources. It is synthetic chemical free so safety profile is encouraging. Gelatin is a perfect choice for all you health benefits and anti-aging benefits in one fell swoop.
I have heard people recommend taking 10g per day.
Great Lakes Gelatin recommends taking 2 servings per day.
Me, I take 2 servings or 22g of gelatin daily by drinking Triple K, an easy to use, all natural collagen protein enriched, INSTANT beverage blend.
All my health benefits and anti-aging benefits are bundled up in one.
(as kidneys process protein and gelatin is a protein)
Jello-O powderTriple K
Growing Younger Every Day
*Disclaimer - results will vary
References:
http://www.ncbi.nlm.nih.gov/pubmed/12837047
http://www.ncbi.nlm.nih.gov/pubmed/17076983
http://www.ncbi.nlm.nih.gov/pmc/articles/PMC98707/
http://www.webmd.com/vitamins-supplements/ingredientmono-1051-gelatin.aspx?activeingredientid=1051&activeingredientname=gelatin
http://www.webmd.com/vitamins-and-supplements/gelatin-uses-and-risks
http://www.webmd.com/pain-management/knee-pain/news/20000925/stiff-knees-take-some-gelatin-study-suggests
https://en.wikipedia.org/wiki/Arthritis
http://www.kraftrecipes.com/kraft-jello.aspx
http://dessertswithbenefits.com/
http://www.greatlakesgelatin.com/consumer/facts.php
Video Source:
Image Source:
3 Day Jumpstart to Get Glowing Skin, More Confidence, + Look and Feel Fabulous!


You can unsubscribe anytime. Please check our privacy policy.