5 Tips to Hide Forehead Wrinkles Naturally Without Botox or Filler
Are you super animated like me and raise your eyebrows every time you laugh or speak? if so, have the deep forehead wrinkles etched their way into your forehead like Mount Rushmore? Has squinting and frowning over the years created the "11" between your eyebrows? I get it. I mean, the majority of us are human and not walking and talking mannequins, right?
When it come to forehead wrinkles , you have two choices: you can love them and leave them, or if they bother you, and you don't want to use chemicals, injections or surgery, you can hide them
So, if you want to learn how to hide forehead wrinkles naturally, without using that forehead wrinkles tape, or spend a lot of money by heading off to the MED SPA for an injection of filler to fill your wrinkles up, or to get that dose of BOTOX for forehead wrinkles, check out my 5 easy tips on how to hide forehead wrinkles, that are easy to implement and really do work. Starting off with...........
1. BANGTOX!
"Wait" you might be thinking, "what about botox for forehead wrinkles? What's wrong with botox?"
Botox is botulism toxin, produced by the bacterium Clostirdium botulinum. If you want botulism injected into your forehead, go for it. But bangs are better...no needles, no botulism. Bangs can camouflage lines on your forehead. Now, not everyone can pull off a "blunt bang" cut (you know the one in which the bangs hang straight across the forehead) without emphasizing other signs of aging. If this is you, instead, opt for a side-sweeping bang which tends to give you a fun, youthful, and soft look.
2. What about fillers for forehead wrinkles? NOPE! Use a skincare filler instead.
Why? Look, there are plenty of cosmetic fillers out there for filling in forehead wrinkles, such as Sculptra, Restylane, and Bellafill. And yes, they work amazingly well on those deep forehead furrows. But a filler is another injectable. And fillers are expensive and temporary. Plus, your filler is only as good as the (hopefully) trained professional who is injecting you. You will never know how your forehead is gonna look until after the treatment is done.
Where as skincare fillers are great! My dear friend and iconic skincare legend, Adrien Arpel, #1 Brand Signature Club A on HSN (Home Shopping Network) and Adrien Arpel Spa and Skin Care, has been calling skincare filling "spackle for the face" for decades now. She was the first person I ever heard call spackle for the face spackle for the face!
Spackle is is similar to a putty you use to fill holes and small cracks in the walls of a house. (These are Adriens words!) With skincare filler (the spackle for your face) you scoop out the putty type skincare filler with a q-tip or a provided utensil, apply over the desired area, let the heat of your body warm the filler to build up or "FILL IN" the deep line or furrow on your forehead and VIOLA! A forehead that is just about as smooth as a baby's bottom!
For forehead wrinkles removal, I recommend and use myself Timeless Smoothing Primer, by Tarte Cosmetics. It has an innovative blurring and filling technology, and smoothes the appearance of fine lines, wrinkles and enlarged pores. And can be used on other parts of your face to hide crows feet, nose to mouth vertical lip lines, and to tighten little bits of loose skin around your face.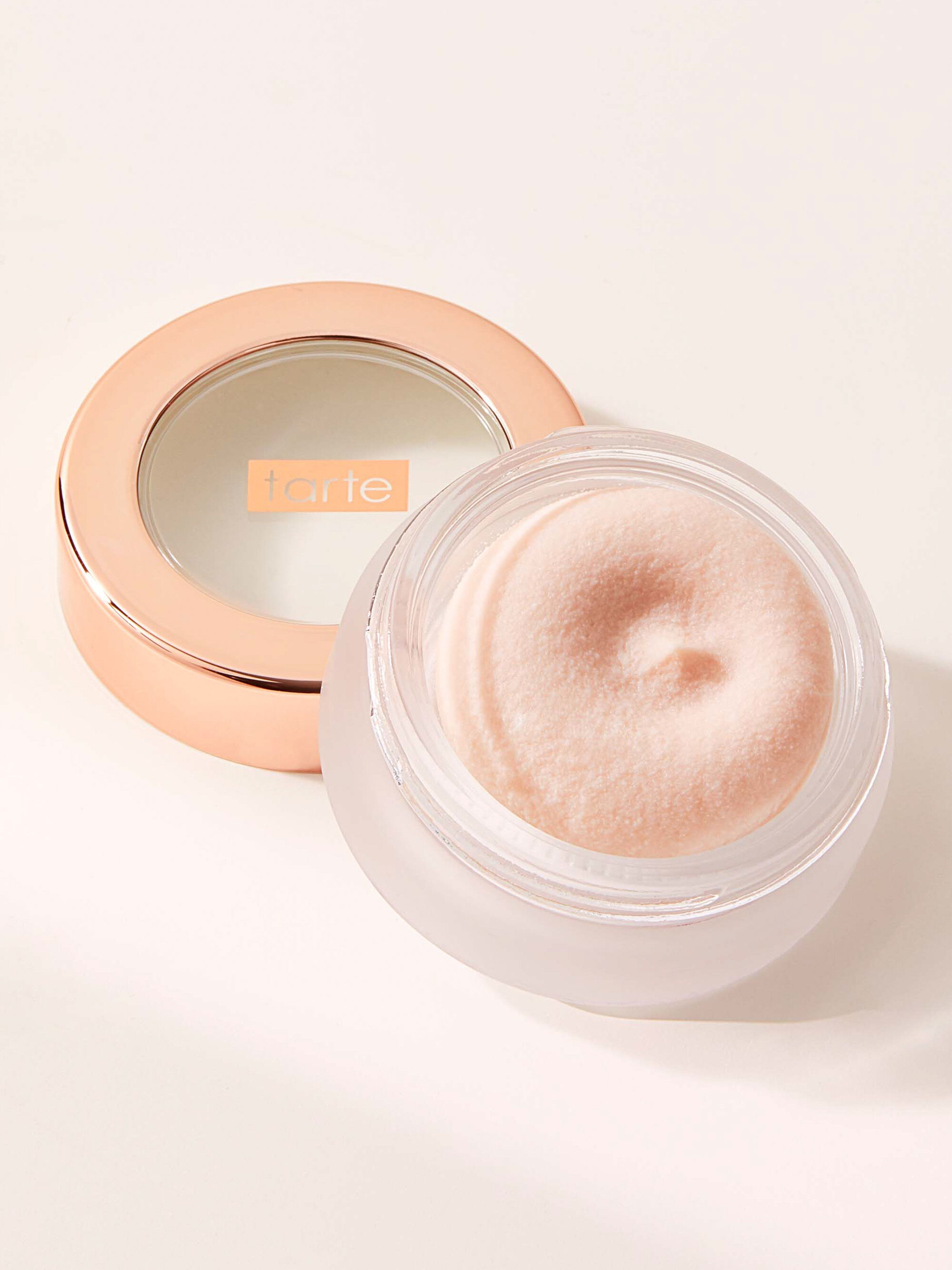 Another "wrinkles in forehead" cosmetic filler is a QVC Customer Choice 2022 Beauty Award Winner, called Spackle Skin Perfecting Primer, by Laura Gellar. I have never tired this product, but all those QVC customers can't be wrong, can they?
3. InstaLift Serums.
Instant lifts are all the rage now. They lift the skin and fill the lines and wrinkles. The results can last for hours. I particularly like the serums as they are lightweight and don't leave a buildup of heavy "putty-like substance" on the face if applied to heavily. I recommend using an Instant Lifting product that can lift, fill, firm, erase and give you both and INSTANT fill as well as some long term benefits. I created an instant lift product that can do all of this. It is called About Face: Lift. Fill. Erase.
Check out Linda in her before shot. Then look at the after!
She had a few forehead wrinkles and some wrinkles between her eyebrows. But Linda applied to her entire face and what a difference. Look at how much tighter her skin is. And look at the wrinkles around her eyes. Huge difference!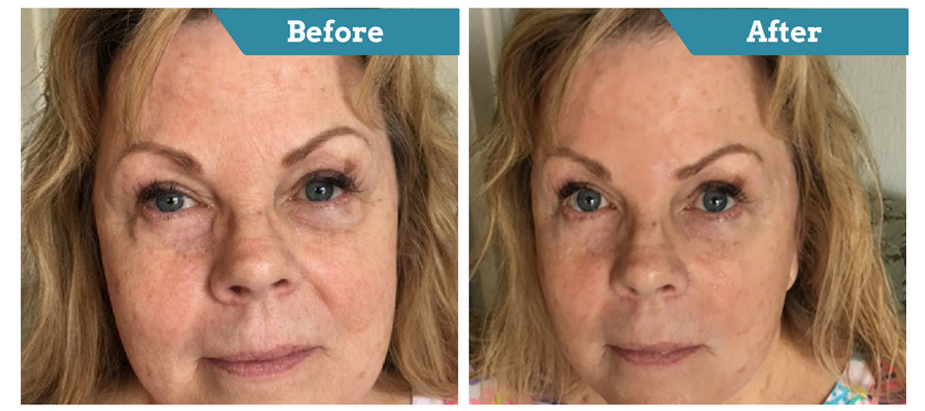 About Face is our eye de puff, that can lift, firm and hide just about everything, including forehead wrinkles. is composed of 7 peptides, seaweed extract, hyaluronic acid and other ingredients lift, firm and fill with long term benefits. As well as enough peptide power to hide your forehead wrinkles. The results are very apparent (see image below) and last for hours. The 11 between her brows and forehead wrinkles gone. Plus her facial skin looks lifted and firm, and she looks 10 years younger! Do you agree?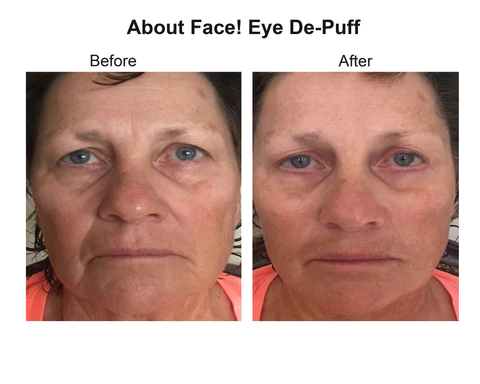 4. Learn how to hide wrinkles on your forehead with Make-up.
Light reflecting makeup and concealers are also tops on my list to hide forehead wrinkles. How to cover forehead with make up is easy. All you need is a lighter colored concealer and apply to your forehead wrinkles, (also known as furrows or throughs). The light color, along with light reflecting ingredients in formula, reflects light away from your wrinkles, creates an illusion of smooth skin, with the forehead wrinkles removed! An injection free way to hide your forehead wrinkles naturally!
I recommend and use 2 concealers to conceal and to hide wrinkles. They both work. The only difference is price.
Yves Saint Laurent Touche Eclat Concealer is by far my favorite. Light weight, does not cake in, beautiful finish. You can team that up with Yves Saint Laurent Touche Eclat Blur Primer for optimum results.
And, or, a more affordable version is Clinique All Over Concealer and Eraser.
5. Take a Collagen Supplement
Collagen supplements when taken orally have been documented via clinical studies to improve skin density, hydration, elasticity and smoothness. And along with that comes with a lessening of forehead wrinkles. Check out this forehead wrinkles before and after results picture. Look at how deep the forehead wrinkles are in the before picture, and how those forehead wrinkles have filled in from the inside out in only 4 weeks of taking collagen orally. Believe me. These pictures were taken as part of my Collagen Trial with a professional HSN Skin photographer, where cheating is NOT ALLOWED!!!
Now these forehead wrinkles are not completely hidden, but they look a heck of a lot better than the before. Do you agree
Now, let's take a look at another collagen user's forehead wrinkles before and after results picture. Her name is Jackie. With Jackie, the lines are not so deep, but the forehead wrinkles are indeed visible.
And in the after shot, well, as Jackie says it, "collagen is better than botox". Jackie's skin looks smooth as glass. Better yet, you get a double bonus with 11 grams of collagen protein per serving, and provide yourself an extra boost of protein along with age defying collagen amino acids that most women need as we get older.
What collagen did these people use in the Collagen Trial? My collagen. Triple K Collagen
I recommend Triple K Collagen Supplement because I made it, I know what's in it, and I know it works. Click on the words collagen before and after success pictures to see more collagen success stories for yourself.
So there you have it. How to Hide Forehead Wrinkles Without Botox - 5 tips that work. All of them easy and affordable to do. Each and every tip, from Bangtox, to skin care filler, make-up to hide forehead wrinkles, to peptide infused insta-fillers, and taking collagen orally, all easy to do and all hide forehead wrinkles.
Enjoy!
Till next time,
Kellie, Growing Younger Every Day
xx00
References:
https://triplekshop.com/collections/the-collection/products/eye-de-puff
http://www.sephora.com/yves-saint-laurent?icid2=product_link_brand
3 Day Jumpstart to Get Glowing Skin, More Confidence, + Look and Feel Fabulous!


You can unsubscribe anytime. Please check our privacy policy.